Sometimes the fabric on our skylight blinds can come out of the channel. We have a couple of fixes for this.
If your new skylight blind is looking like below, don't worry as it's a simple fix.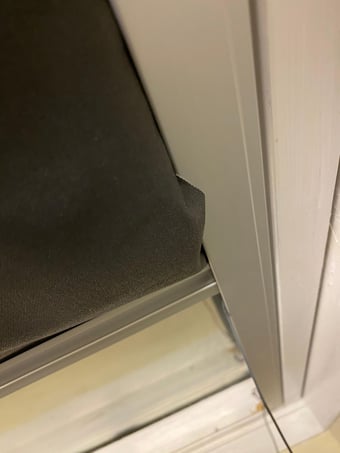 All you will need to do is move the blind up, back towards the housing it rolls up into. As the part of the fabric that is outside of the channel reaches the top, use your finger to push it back into the channel. This has happened as the fabric has come out of the top unit into the side channels for the first time and missed. You should also check that the tension is even between the two internal cords that run down the side channels. If one is tighter than the other then it can pull on the fabric, causing it to pop out (as above).
By putting the blind back up and into the housing, or adjusting the cord tension, you can guide the fabric back too and then when you roll the blind down the next time, this should go into the side channel as expected.
If the fabric still comes out of the channel, then you will need to do the following:
1. Remove the blind from the window
2. Unroll the fabric and move one of the black plastic clips on the fabric to the area that is coming out of the channel.
3. By doing this, you'll help guide the fabric into the side channels - preventing the fabric from popping out again.
4. Re-install the blind as before.